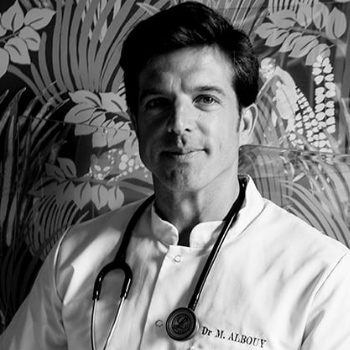 A graduate of the National Veterinary School of Toulouse in 2001 and holder of a Certificate of Specialised Studies in Ophthalmology, Dr Maxime Albouy created Chahuahua in 2018.
Apart from animals, he likes to take a dip in the Mediterranean during his lunch break and likes surreal comedy and the film The Big Lebowski . Ah yes… a guilty pleasure? Karaoke!
He swears by participative management and cannot stand it when his favourite assistant crunches away on Vichy mints not far from him!
His favourite quote is by Mark Twain: "They didn't know it was impossible, so they did it". Another quality of our favourite veterinarian: he hates doing things twice.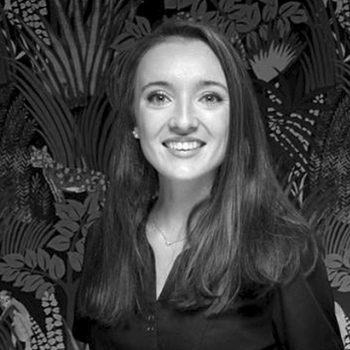 Clémentine Haas did her veterinary studies as well as her Pets and NAC (New Pet Certificate) training at the National Veterinary School of Alfort before returning to the French Riviera. A surgeon at heart, she plans to specialise in orthopaedics and traumatology by 2023. 
You can find her at Chahuahua every Thursday.
She hates the Nice midday cannon blast that frightens her dog Isis and kind-heartedly jokes about people who call their cat Caramel because it is red-haired (sorry if that applies to any of you).
We at Chahuahua love her humour, her operating theatre playlists, and her positive attitude!
As a child, she dreamed of being a "dog doctor". After studying secretarial studies, she pursued her dream of working with animals by becoming a veterinary assistant! 
Do you want to laugh? If your dog shakes and is full of drool… look at Frédérique's face! She hates it… She also hates it when Dr Albouy throws his coat next to the laundry basket (message received?).
On the other hand, she loves Paris-Brest pastries, fatty foods, and sweets, especially chewing her Vichy mints…
Another oddity: She collects Disney socks! 
Alice Couronné a étudié à l'Ecole Nationale Vétérinaire de Lyon puis a fait une année de formation supplémentaire dans une grande clinique en Isère. Niçoise d'origine elle est ensuite redescendue au chaud dans les Alpes Maritime.
Elle s'est aussi formée en nutrition au côté de spécialiste.
Elle aime l'imagerie, les chocolats, les chats et les chevaux.
Autre particularité, elle surnommera votre animal « chaton » que ce soit un félin ou un gros Dobermann.

Because you know your pet better than anyone, the Chahuahua Clinic offers you its full attention!
No less than 30 minutes per consultation to listen to your two-, three-, or four-legged pet and you!

You know the saying, "prevention is better than a cure".
At Chahuahua, preventive medicine is one of our strengths. We provide advice on nutrition, behaviour, vaccines, etc. Everything to keep your pet in (excellent!) shape.

Chahuahua is more than a veterinary clinic. We are women and men who love animals and use our skills in the service of health. Our multidisciplinary team and high-tech equipment are the cornerstones of treatment!

Treatment team: the two words that sum up the ideal relationship between you and us.
A compassionate and close relationship in which the bond with your animal is at the heart of our profession. Support is the key to good care.

Because we want you to feel good at Chahuahua, we treat WELL-BEING as a real innovation. There is an exam room for dogs, one for cats, and a hotel rather than a kennel. These are just some concrete examples of our innovation.

We collaborate with many animal professionals: imaging specialists, osteopaths, surgeons, etc.
All with a single mission: to create a clear chain of care, led by an enthusiastic team seeking excellence.
Creating a closer bond are the words that sum up what drives the Chahuahua team.
Because what bonds you and your pet is unique. We believe that good medicine comes with important values. Compassion, listening, communication, ethical treatment, support, innovation, and excellence are all factors that come into play in the well-being of your animal. Consequently, our values reflect our convictions and our passion.
Therefore, our values reflect our convictions and our passion.
Because together, we give our best to make your pet's daily life as pleasant as possible, strengthening your bond with your pet is our goal.
Breathe. We will take care of everything!
We all had an excellent family doctor that we remember... At Chahuahua, that's what we want to create with you! A unique relationship of trust with real follow-up that is human-focused and efficient. A true partnership where you and your pet are in good hands.
State-of-the-art equipment, hygiene, and well-honed services!
Because nothing counts more than good medicine provided under good conditions, we have adapted our space to meet our quality requirements. But we did not want to overlook good support, from A to Z, where every detail comes into play!
Here, everything is thought out to make your time here as calm and effective as possible. From the entrance to the exam rooms, our clinic is centred around your well-being.Soothing colours, a cosy waiting room, friendly staff, natural light, fresh water for you and your four-legged love 😊, a view of the garden and its century-old olive tree, etc. You will feel at home at Chahuahua Clinic.
A clinic with a (very!) convenient location
asy to access, very accessible via public transport, and parking spots. We have thought of everything for your comfort and, above all, so you can bring your pet to us with complete peace of mind. Located between Place du Pin and the Port of Nice, the clinic is accessible by tram, bus, bicycle, electric car – charging terminals in front of the clinic – or classic car, etc. Indeed, for the latter, Chahuahua Clinic offers a dedicated parking spot!